11
DEC
2013
Content marketing is a process, a long-term commitment because the aim is to build relations, educate readers/ viewers/ customers and to listen to them. It is not a destination, it is an enlightening journey where not only your customers learn about you, but YOU learn about them which helps you meet their expectations and become a preferred choice.
Unlike a one-time advertisement campaign packed with intense selling message, content marketing is a resilient bridge between a company and customers.
Marketers can clearly read the writing on the wall; they have to draw their customers towards them and not pursue them. Today, the choices to engage with your customer are evolving and newer models are emerging each day.
Most of you are either actively pursuing Content Marketing for your business or enforcing parts of it. Here are 20 Basic and Practical Content Marketing Tips which are absolutely binding for better results in terms of increasing conversion and higher ROI.
1. Content Management Mission – You have to "write" down a clear mission statement about your goals and objectives of your content marketing plan. How will you communicate with your audience using which kind of content to achieve what type of result?
2. Omnipresent – Ensure that your content is available in most of the common channels that people access. Some people are fond of reading blogs while others love to read case studies. Often people who are pressed for time might glance through an Infographic design rather than spend time reading a detailed article. Customer preferences are also shifting and adaptive. Hence, content should be served at each platform to ensure maximum exposure and visibility.
3. Analyze your Audience – Who all are reading your content and may read your content in future? What type of content is desirable to them? What information are they generally looking for? An existing car owner might be looking for an upgrade whereas a two-wheeler owner is looking to purchase his/ her first car. Are you serving all segments of your customers? Are you presenting the appropriate content to the targeted segment?
4. Content is the Key – Focus on the quality of content and not the quantity. Seth Godin's blog is inspiring example. It is has one clear message put in a nutshell and presented in few words. The reader manages to read it in few minutes learning something new. He "draws" readers towards him.  That is how his books are best-sellers.
5. Content should be FRESH – The amount of online information and content that is churned out each day is simply mind boggling. The only way to stay on top of the mind of your audience is to serve up fresh and engaging content regularly. Fresh also means providing content that is not already available and rehashed. Find out topics that customers are looking. Develop content on subjects not dealt with or partially talked about.
6. Authoritative and Expertise – Many people can write on financial products, news and views but still people have a reliance on Bloomberg data. In the oil and petroleum world, Platts is the key source. In the world of human anatomy, the book Gray's Anatomy is read world over. The unique feature of all these disjointed examples is their expertise and authority over a particular subject. Content marketing gains a toehold when it is able to establish the strength and reliability of its insight. Find your niche, establish your authority and draw the crowd.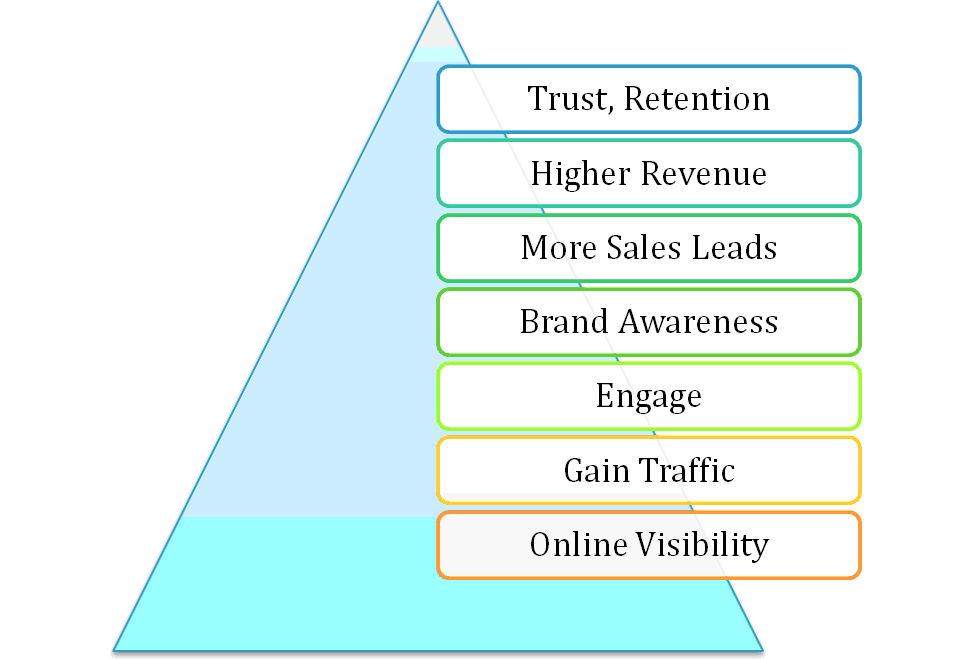 Why should you pursue Content Marketing?
7. Create a Calendar – Since Content Marketing is a continuous process and there are too many channels, managing content can be challenging. The easiest way out is to have an Annual or Half-Yearly Content calendar. It is like a teacher's teaching plan. Prepare a day-wise, channel-wise calendar about what you will be presenting when on which channel. For example – a blog post can be daily while a case study might be a monthly feature.
8. Resource Management – The bigger the company, the larger is the content. It is crucial that dedicated resources are allocated for content creation and management. A resource monitoring Twitter will not be suitable to write blogs or a video creator will be ineffective in crunching numbers and designing an Infographic design
9. Holistic Plan – When you are presenting a particular content ensure that all the channels talk about the same. This creates higher chances of visibility, traffic and search engines pick up the trends. This is how many items often go 'viral'. There should be synchronization and keep customers focused.
10. Create a Content Database – This is extremely useful for efficiency. Example: Yoga Journal is a wonderful site with very good content. They often send emails with articles that they have previously shared. Why?
A. To refresh the minds of the existing readers.
B. To provide this fresh content to new joinees in the mailing list.
The content database also provides a bird's eye view of what content has already been put forward and helps develop the calendar.
11 . Be Innovative – Viewers appreciate variety and creativity. A message can be written, drawn, verbalized etc. Innovation is how you present a mundane fact in an entertaining manner to grab eyeballs and trigger readers to share with their social circle.
Imagine a text stating that a Microwave of Company X can defrost 500 gms of frozen fish in 2 minutes or viewing the same on Youtube.
In the US, there was a virtual girl's hangout when a female lead each from three continuous shows of a particular television network tweeted with their audience and amongst themselves. This is a simple yet effective form of engagement to boost TRP.
12. Looks ARE Important – The quality of Content is vital but it needs to be adorned accordingly. Don't overlook the criticality of good aesthetics, color combination, readability of the text, and tone of the content which should match the corporate image.
13. Device-based Content – Today people are accessing content through their desktops, laptops, tablets, smart phones and even regular mobile phones. Content should be created for different devices so that any group of readers/ viewers is not left untapped.
14. Contact Information – Readers must be provided with a link if they wish to contact you. Content Marketing expert Heidi Cohen says content should be linked back to the website.
15. Test and Measure – You have created content and marketing it on many channels regularly but is it generating the desired results? What is the planned versus actual achievement? If you have over-achieved, what should you do more? What worked, what didn't and why? If you have under-achieved what should you change? Know your metrics; know what you need to measure and how you should measure. Interpret the results and write a note for future reference.
16 . Listen to Feedback – Any feedback is valuable. It is an indicator that tells the content marketers if they are moving in the right direction. This should be embedded in the Content Marketing Strategy. It is also helpful in improving the content calendar both in terms of content and periodicity. The customer complaints and your solution to the same can be turned into small articles, blog posts or tweets.
17. Competitor Analysis – What kind of content is your competitor generating and serving? What are they doing different from you and why? Are they attracting higher traffic? Are they creating a greater buzz in the market?
18. Link your Channels – How do you drive your Twitter followers to become your Facebook crowd? How do you make them read your blog and share it with others? It is essential to link your content across channels. When you post a new blog item, share it on Twitter and Facebook. A picture on Instagram can be shared through Twitter and also linked to Pinterest. The opportunities are enormous, it is upto how you display your creativity. Promote sharing – provide options to share ANY content on all of the other channels.
19. Industry Information – Ensure that your content calendar focuses on the developments in the general industry. Your company is nothing but a subset of the industry. This is helpful in educating people about the changing trends and the new opportunities lying ahead. Industry outlook sheds light on the prospects of the individual company.
20. Read – You know your company, you know your competitors but how much aware are you of the external environment? What are the changes happening around you? How is it going to affect you as a customer and as a marketer? Often unrelated changes in the environment create upheavals and change the competition dynamics overnight. Tablets ate into the netbook market. Smartphones are actively competing with point and shoot digital cameras. Samsung has come out with a camera that can capture images and upload it to the social media pages too. How will it affect your content marketing?
Stay on top of your Content Marketing Strategy. Follow this blog for more inputs, information and insight.
Read More