18
JAN
2013
Warren Buffet had said "It's far better to buy a wonderful company at a fair price than a fair company at a wonderful price." Source: Letter to shareholders, 1989
Customer of 21st century is a highly evolved and informed one. Thanks to the advent of Internet and search engines becoming embedded in our daily lives, most people try to do a bit of their own research about the Company profile before making any decision to buy.
This "customer or prospect" maybe:
Purchasing an item or availing a service of a Company
Purchasing the stocks of the Company
Investing in a mutual fund where the Company is a part of the portfolio
A supplier interested in providing some product or service to the company
A skilled person seeking employment in the Company or offering her/ his services
Each segment has specific need for information. Some of the information might be general but others are usually specific to the purpose or objective. These segments are the actual "audience" of a Company Profile.
For example – A person interested in the stocks will be not be too keen to research about the product features whereas a person who is going to buy and use the product will be more keen about product performance, customer reviews, testimonials and expert advice.
A company profile copywriter has to keep these diverse interests in perspective and write with the aim of catering to the entire continuum of information – seekers.
Where do these buyers commonly look for information about the Company?
The universal source of information is the corporate website. Individuals to corporate all need to have their official website to proactively proclaim facts and figures about themselves. Since the Internet offers people the freedom to write anything, a corporate website is considered to be an authentic and verified source of company information which is freely accessible to all. This is also a source where all kinds of information about the company are collated under different heads.
Brochures highlighting the company profile; is available on request or handed out freely in trade fairs, exhibitions, kiosks etc. These however mostly contain very generic information.
The boilerplate of a Press Release issued by the company is also a brief Company Profile. A boilerplate typically contains the website URL for further information.
Magazines and press articles, blogs, forums and social media pages are other avenues to seek information about a company but they are secondary sources.
What information should be included in a Company Profile?
A company profile needs to showcase the strengths and prospects of a company in the most comprehensive manner. It is the first pedestal providing detailed information about the company to a diverse audience. It must atleast include:
Owners, Management Team, Chairman's Message
Mission, Vision, Objectives, History, Milestones
Financial Performance Information, Projects, Future Plans
Products, Services, Brands, Features, Benefits
Production Facilities, R&D, Quality
Human Resource, Work Culture,
Clientele
Awards, Certificates, Recognition, Memberships
Contact Information, Distribution and Channel Information for Purchasing, Customer Care, Investors, Media or Others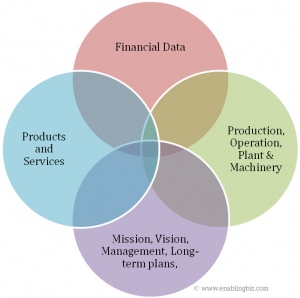 Once the entire information is collated, it needs to be segregated into logical compartments for maximum ease of reading and accessibility.
What do you need to do to create the RIGHT impression?
A Company Profile should be able to create the "RIGHT" impression on its target audience. It has to make the emotional connect and touch a cord in the mind of the prospect/ customer or reader of the company profile.
Unlike Press Releases, which are bound by strict formats and boundary condition, Company Profile copywriting has lot of scope for inventiveness, experimentation and innovation.
A picture speaks a thousand words. Efficiently use videos, audio, pictures from the company (not from some paid Stockphoto source) to elucidate assertions and develop credibility. Imagine the difference between saying we have open workspace for our workers or explaining the same with couple of good photographs. Which will be more persuasive?
Establishing Integrity is the core to any company profile. Use case studies, client feedback and testimonials for
SEO-optimize the web-pages so that they appear high on the search engine results and provide Visibility to the company
Use company's standard fonts, color and logo. It creates Uniformity and Continuity.
Use simplified language and short sentences. Words like cutting-edge, breakthrough and out of the box have become overexposed and under effective.
The most important feature of any company profile is to be able to state what your company does in the least possible words.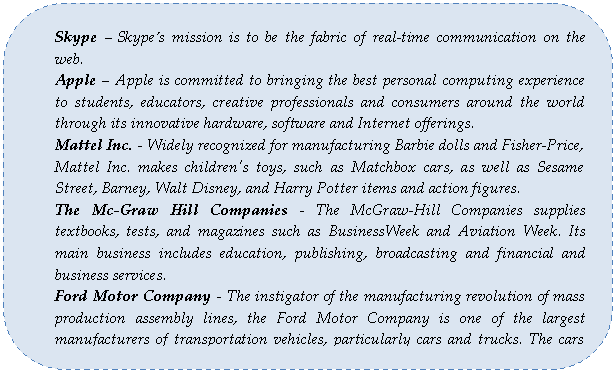 A Company Profile copywriting initiative has wide objectives. It has to appeal to the perception and motivate diverse class of people having disparate and distinct needs.
Email to avail free consultation on COMPANY PROFILE Copywriting Services
Alternately, Call or Leave a Message on +91-11-30201033
Read More