27
OCT
2012
Newsletters are very effective tools for marketing provided they are used in the most versatile manner of Engaging and Retaining Customers and build lasting relations. It is important that the objective of utilizing newsletters is clear.
The positive about Newsletters is that they are almost always OPT-IN. This means the reader/ customer has proactively chosen to receive the newsletter (and probably read and share). Email newsletters are an immensely authoritative, one to one interactive channel of marketing which is low cost and high in effectiveness. However, many marketers make the mistake of diminishing the power of newsletters by using it crudely as a sales tool pushing the readers to simply buy their product or service.
Influencing the customer to Buy is the sole motive of marketers. That is how companies actually earn revenue and grow. It is a no-brainer.
There are two basic ways of INCREASING sales and revenue
Acquire more customers How?
We need to know
who are our prospects are
how we can reach them through multiple channels of communication
understand what are they buying currently
how our product can be more useful and convey it to the prospects/ customers
aid them in making the "buying decision"
help them BUY
get their Feedback and Engage them further
Increase repeat sales from existing customers
Existing 'satisfied' customers are more likely to buy than prospects or new customers. Seth Godin says "The easiest way to get people to do what you want them to do is to start with people who want what you want".
How?
We have to
Attract our customers
Engage them in meaningful conversation
Focus on the product and its attributes not sales
Advise them about industry trends, accepted norms, best practices, available options
Provide post sales support not only for the product but also for deciding to buy the product and to repeatedly buy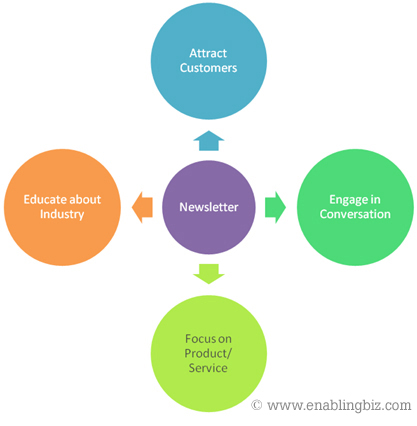 One of the most efficient ways of penetrating, acquiring and retaining customers is through Newsletters.
Why Newsletters are efficient?
They are OPT-IN. When customers or prospects choose to receive emails, they are eager enough to see what you have to offer not only in terms of a valuable product but to feed the reader's needs. All opt-ins may not be your customer today, but they have the potential to be one and you KNOW them. You can work on them.
Newsletters can be used distinctly to build new relations and nourish the existing ones. The tone, layout, content strategy can be customized for various categories of prospects and customers making it look extremely personal.
Newsletters can provide in-depth industry information with lot of outbound links to good articles, websites and blogs that does nothing else but enhance reader awareness and knowledge. And knowledge is empowering. This is how we INFORM and ADVISE readers in a subtle manner. If your product is good, additional information to customers will only help the cause. An informed customer will need lesser motivation to buy.
Readers can be provided true success stories of the product or outcome of using the product to validate its effectiveness and value.If we focus on control of beliefs we can influence behavior. We can change customer attitude and thus change buying behavior. For that to happen, we have to steadily supply true stories and case studies rather than staid information about the product. People are more comfortable buying when others like them have already bought, used and have something good to say about the product. Customers need constant reinforcement of correctness of their decision and purchases. More proofs and credentials mean more impact on

normative beliefs.

Customers should be provided evidence why the choice was good and why they should continue to buy the same product and recommend it to others. Newsletters should work towards justifying to their customers that they have made the RIGHT DECISION. A good product is not adequate, it has to deliver value and most important – customers must PERCEIVE that the product is VALUABLE!
Newsletters are not meant only to create instant purchases. They also have a long-term perspective of educating, building relation. You keep providing information, sharing reviews, customer feedback, star employees and their achievement, good governance actions and corporate social responsibility. Just keep on engaging. The customer should come out feeling no compulsion to buy. Product promotion is embedded in strategic places of the newsletter without making it obvious or prodding the reader to buy. Newsletters ideally work on building TRUST, providing Insight and Information and INSPIRE customers. Sales will automatically happen.
Visual graphics are more effective than drab text. E-Newsletters are also excellent means of sharing detailed photos of the product, its parts, videos showing the product in action, graphs and charts to present comparative performance, market share etc. This method is useful to highlight the features of the product showing how it functions and what benefits can be derived.
Newsletters can be easily stored and shared with other friends, colleagues and acquaintances. E-Newsletters are also very easy to store and retrieve for future reference. Readers can tweet, like and share on social media sites thus grabbing more eyeballs.
You can achieve with NEWSLETTERS what you cannot do with a single hoarding, thirty second radio or television advertisement and banner advertisement on websites.
How do we make Newsletters effective for Marketing?
Laswell's Communication Model is ideal to understand how customers PERCEIVE marketing communication. It consists of 5 Ws out of which Who is giving the message to Whom is quite evident.
What Newsletters should focus on – Which Media and What is the Content being delivered.
In today's world, e-newsletters are the most effective for most of the products. But there is ample scope and need for printed newsletters. Well not everyone has Internet connection or surfs the net to make purchase decisions. The choice of media for distribution of newsletters is a factor that will define its effectiveness. Marketers should employ all possible options depending on type of the product and the target customer segment profile.
Content is the King!!! Readers are interested in the uniqueness and simplicity of your content. The newsletter should provide some information that is useful and fresh. The delivery should be comfortable and lucid where even difficult technology jargon is broken down into layman's terms. How many people will understand RPM of a car or viscosity of paint? Why is it important to be aware of these factors?
Aesthetics of the newsletter. A baby care product newsletter should most certainly have a different look and feel compared to automobile spare parts or a data server. The reader's attention should be grabbed immediately after they access the newsletter.
Too often or too little information is unfavorable. The frequency of Newsletters is designed as per the business objectives and target audience. Information Technology, Electronic products and financial services have rapid changes and such information needs frequent updates whereas Automobiles, Pharmaceuticals etc are more seasonal.

Newsletter Copywriting

is the crux of the entire initiative. You have your content, the customer profile, the preferred aesthetic appeal, frequency of circulation but if the copywriting itself is sloppy then the whole effort will fall through. You might have lot of content but it is essential to know what should go in and what should be left out. A CRISP and SHARP copy makes huge impact. It is the difference in achieving a Personal Connect or disdain.There are various professional agencies which specialize in newsletter copywriting for a variety of industries. They understand what works and what does not. It is highly recommended that companies work with these agencies rather than depending on in-house staff to develop newsletters.
Let us show you how WE can complement your needs and help you DESIGN and DEVELOP content-rich newsletters with exceptional copywriting. Email us to get free information and consultation on Newsletter Copywriting.
Alternatively, Call or Leave a Message on +91-11-30201033.
Read More