19
FEB
2014
Google, the name synonymous with every virtual search conducted for more than a decade (so much so that it has spawned a namesake verb for online search!), was started as a research project by Larry Page and Sergey Brin at Stanford. Andy Bechtolsheim, of SunMicrosystems, piped in with USD1million. By the end of the founding year of 1998 itself, it had had an index comprising of over 60 million pages!
Its innovative technological foundation made it an instant favourite of the critics and users alike; way ahead of its rivals (and big names at that): Yahoo, AOL.com, MSN. It even generated interest among stock market investors, that continues unabated to this day.
Its present office was acquired around 2003. The company went public in 2004, after its former CEO, Eric Schmidt was hired. Several strategic partnerships (Yahoo, AOL, Bing, SunMicrosystems) and a couple of acquisitions (Pyralabs, a pioneering web-log hosting site, YouTube, JotSpot) later, Google had acquired its present status as a leader in online search engines.
Perhaps, one of the reasons that the company enjoys an upward success track is because of its ability to understand the needs of netizens and provide solutions, that are technologically ahead of those by its rivals.
The infographic design below depicts the search giant's timeline.
Click on the image to see the full view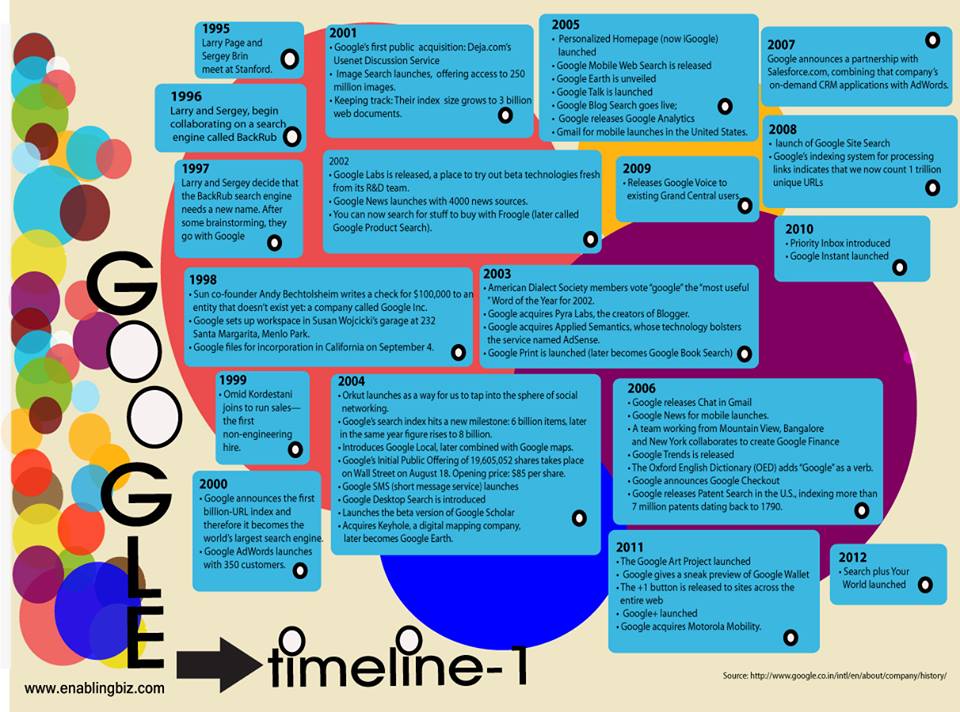 Note: Copyright @ www.enablingbiz.com , you can share, post or republish this infographic design without tampering the copyright label
Read More