4
APR
2014
Small and Medium Enterprises (SMEs) and Startups face a lot of marketing challenges. The most difficult phase, perhaps, for them is their customer acquisition period. Have you tried LinkedIn Marketing? It definitely works, however, a mere presence will not do you or your business any good; you need to aggressively expand your presence, connect with the right people and do the right things to increase your visibility. Rest assured, you'll definitely see a positive impact on your sales.
Here are some practical tips to leverage the power of LinkedIn and tap the potential of this great platform where people mean business.
• Ensure that your profile is 100% complete: LinkedIn profile mostly appears within the first five search results (Google, Yahoo, Bin etc) for your name or business name. Thus, it becomes imperative that your very first business card makes a perfect impression on the viewer.
• Make your profile more compelling by adding an interesting story in your summary. Tell people who you are, who you help and how you help them, so that a reader gets an insight into what it is like working with / for you.
• Get an appealing look: The first thing on your LinkedIn company page that your visitors will see is your banner image. Use high quality images as your banner images and use this feature to promote your upcoming events, launchings and celebrations.
• Build connections: Connect to all the users who you believe can be your prospects or help you to reach farther. Also, never decline an invitation to connect.
• Calls to action: Creating a call to action attracts more attention then having a generic link that says "My website". Remember, like any marketing initiative, the objective here, too, is to get the reader / visitor to take an action.
• Recommend others:: Recommending others without them asking you to do so is a great way to increase your networking and attract more contacts.
• Join targeted groups: There is no better way to reach out to your prospects than bringing them together with people of similar interests and then displaying your expertise in the field.
• Use LinkedIn's direct ads: this feature has become the new favorite of start-ups and established organizations alike. It helps you target the 255million strong member-base on LinkedIn.
• Stay on top of mind: Post regular updates about your business that may include success stories, new product launches, customer feedback and so on.
• Company page: Optimize your company page. You can add a video, share product info and throw some light on your team, value-system and working.
• Make your profile SEO optimized: By adding relevant keywords in title, headline and skills and expertise etc, you can make your profile rank better in search results. Also, post a strong and clear summary.
• LinkedIn marketing: Remember to send invites to your ideal audience when you conduct a webinar or present your products at a trade show or any other similar event. Additionally, post notifications in groups that would help spread awareness among the members of the group.
• Respond to questions: Anytime you ask or answer a question in 'Answers section', it shows up in the Network Updates feed for all your connections. Gain expertise points in your category when you give the best answer for a particular question. Experts are always more likely to be trusted.
• Optimize your URL: Your LinkedIn profile URL should look like http://www.linkedin.com/in/yourname. This would increase the chances of your profile or company page showing up in search results for your name or company name.
• Analytics: LinkedIn also offers analytics and insights for brands to make sure that they are reaching the right audience.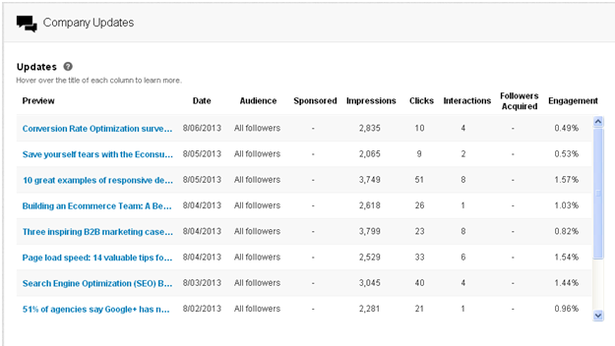 Image Source: eConsultancy
LinkedIn counts executives from all 2012 Fortune 500 companies as members; its corporate talent solutions are used by 88 of the Fortune 100 companies. More than 3 million companies have LinkedIn Company Pages.
These stats are explanatory enough to demonstrate the power of marketing on LinkedIn. SMEs can increase their revenue and business several times over, by using this powerful business network effectively.
Want to leverage LinkedIn for your business? Need Assistance? Call us on +91 8826 175930 or mail us at info@enablingbiz.com . Go to our Social Media marketing service page to know about our social media solution for small businesses.
Read More