15
APR
2014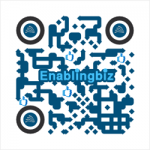 The purpose of a QR code or a "Quick Response" code has always been used to store detailed information. From a marketer's perspective, QR codes are effective promotional tools, and can be used to facilitate brand promotion, traffic inflow and lead generation.
Here are some ways to use QR code effectively:
Create an eye-catching custom QR code with your brand logo at the middle. A custom QR stands out. Getting your prospects to scan your QR is a difficult task and custom QR code helps you accomplish that.

Put your QR code on your business card so that when you share it, the user can get instant access to multiple ways of contacting you. All the information you wish to give is accessible in just one scan.

When going in for off-line advertising, put in your QR code on your banners and posters. A mere click on the code would give all the requisite information that you wish to share with your prospective customers.

Embed your QR in brochures and flyers as well, to be able to reach out to a wider audience.

Embed your information as a contact file so that the user gets all contact details in his device and can respond later.

Linking your QR code to your website will increase traffic to your site and in turn lead to more conversions.

Also, you can link QR to your Facebook page or Twitter profile so that your prospects can get connected with you.

It's also a good idea to embed a link to your product-tour video, corporate video or any other compelling content created by you that can convince the prospects to buy your product or avail your service.
EnablingBiz eSolutions offers top notch custom QR design service. To avail the service, call us on +91 8826 175930 or mail us at info@enablingbiz.com
Read More