9
APR
2014
Twitter, has come a long way, registering a growth that touches a staggering 241 million users! The user-base is large and is expanding every day. Did you know that there are more than 500 million tweets that get posted every single day? As a brand, the scope for generating revenue and reaching out to your prospects is immense.
Source: Expanded Ramblings
Twitter Advertising Has Three Primary Ad Formats
1.  Promoted Trends: Promoted trends are sponsored versions of Twitter's trending topics.
2. Promoted Accounts: Twitter suggests users to follow based on the accounts you are currently following. Promoted accounts put you at the top of this list, giving you a platform to get more followers.
3. Promoted Tweet: Promoted tweet turns a tweet into an ad. Promoted tweets are shown up in user's stream without the user's initiation.
Promoted Trends: Promoted trends, essentially, started out as an extension to promoted tweets. The promoted trends appear at the very top of the list on Trending Topics, under the category of "promoted".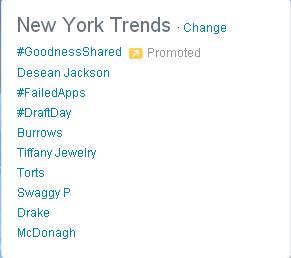 A promoted trend is more effective than a trending topic on Twitter. This is so because when the user clicks on a promoted trend, they are able to view Twitter search-results on that particular topic, with a relevant promoted tweet by an advertiser at the very top. They are also displayed prominently on the mobile version of Twitter pages.
However, promoted trends have both pros and cons. On one hand, they approach the holy grail of social media marketing: generating genuine conversations around your products or services. On the other hand, similar to other paid social media efforts, promoted trends can have an "Astroturf" feel about them (they can feel like artificial corporate messages in a medium that thrives on authenticity and spontaneity). Trending topic hash-tags are also often a favorite target of trolls, or users who post provocative comments intentionally just to get attention.
Promoted Accounts:
Twitter helps users by recommending accounts to follow in a box to the left of your tweet stream that says "Who to follow." The suggestions are based on your interests or follower base.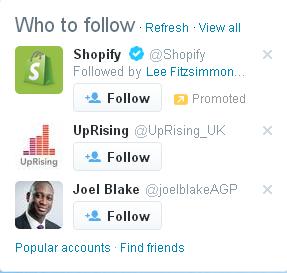 Promoted accounts are a tool to feature prominently on the list and gain new users. Twitter charges for promoted accounts per new follower. Users set a maximum bid they would pay for each new follower. Brands can target potential followers based on interest, geography, and gender.
Brands look for more followers by getting their accounts promoted and in turn showcase more content and attract new leads.
In fact, as a brand when your follower-base increases, you are able to drive sign-ups, downloads and purchases, because you they choose to follow you for your product / service.
Promoted Tweets:
Simply put, a promoted tweet is merely a tweet that is targeted based on the preference pattern exhibited by the interest graph. This graph is formed on the basis of various public user signals, such as follows. The advertisers target the users on the basis of their interests, gender, the device that they are using to access their account and geographical location.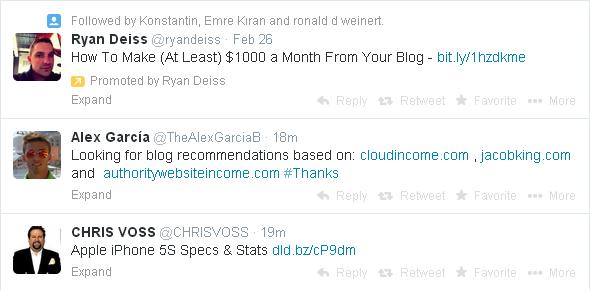 Since the user does not see any visible change when accessing their accounts, and yet are able to read relevant tweets that have been promoted to them, based on their preference. Thus, promoted tweets are, by far, one of the most effective advertising options.
Keyword Targeting and Video Advertising
When a user expresses a requirement or a want, through either his recent tweet, third party tweets that he engaged with, or merely a public search, the keywords that are entered form the basis of targeting. "Show users the right message, at the right moment, in the right context." is the mantra here.
Video ads would be a natural expansion for Twitter. According to Adweek, online video-adverts promise to be a high-growth area for social networking sites. Therefore, Twitter has started offering video-advert options, in recent months. Embedding a video in a tweet has become a common activity when a brand is being advertised.
Twitter charges advertisers on the basis of clicks and re-tweets on a particular trend, account or tweet (Cost per Action) or cost per 1000 Impressions. A company can adopt any plan of action appropriately to advertise itself. Let your content tweet and attract your targets. Increasing ROI is an important and difficult task to accomplish.
And last but not the least; we will enlist a few pointers that are required to be kept in mind:
a) Your Target Audience is the key to a successful campaign (like every marketing campaign): before starting, analyze the kind of audience you wish to target. This is imperative if we are ensure the success of a marketing campaign. Twitter offers a turnkey program that will help you study and segregate visitors on the basis of geographic location, demography and affinities.
b) Mobile Optimization: this might be a topic that suddenly everyone is talking about, but it is, indeed, an indispensable aspect of designing and creating tweets and marketing efforts online. This also brings us to the vital aspect: of creating tweets that are succinct and crisp. Moreover, the message that you are trying to convey should ideally appear within the first 90 characters itself. Also, ensure that the link that you are sharing is able to work on smaller screens of smart-phones as well.
An afterthought: did you know that over 76% of Twitter users access their account through their smart-phones?
c) Keyword Research: though this might appear to be a given, keyword research is an integral part of a Twitter marketing campaign. Targeting after researching would help increase the impact manifold. Through this, you would be able to reach out to target users, who will search for the particular set of keywords, tweets as well as recent tweets that they were engaged in.
Also, remember that more precise the keywords, the more higher the chances of generating engagements.
d) Incorporate a CTA: like every other online marketing campaign, ensure that the tweet, too, has some kind of a CTA, right after the message you were conveying.
Considering Twitter Advertising? Need Assistance? Call us on +91 8826 175930 or mail us at info@enablingbiz.com . We offer a wide range of web advertising services; visit the web advertising section to know more…
Read More