7
APR
2014
In 2012, total PC shipments (in other words, sales) accounted for 28.7% of the smart connected device market, compared to smart phones', which accounted for a whopping 59.5%.
By 2017, total PCs are expected to drop to 13%, while smart phones will contribute 70.5% to the overall market.
Source: Xbitlabs
Enough with the mundane number-crunching! So, how does this significant shift begin to affect you, as a business owner; more so when you happen to be a small or medium one?
Even observing your fellow-travelers may convince you that the above figures claimed are true. People do spend a lot more time in browsing the internet, the mobile way, rather than the traditional way. As a small business owner you can no longer treat mobile as an option. Going mobile has become the need of the hour.
Here are the 5 strong reasons to go mobile:
1. Volume  of Google mobile queries is likely to surpass PC search this year:
Matt Cutts, Head of Spam team at Google predicts that Google mobile queries may surpass PC search this year. Consider these facts too:
Mobile traffic constitutes over 30% of the total online activity.
There are over 5 billion mobile users worldwide, compared to a minimum 2 billion PC owner.
Source: Search Engine Land
A mere 25% out of the 60% with a website have a perfectly mobile-compatible counterpart. The gaping difference is all yours for the taking, if you are smart enough to come up with a mobile-responsive site.
2. Geo-targeting:
There are two factors that work in tandem with each other here: Google has begun to prefer search results that are geographically closer to the user's location, and this happens through the use of Google's Local Carousel. The other factor that is at work is the natural preference by users for options available geographically closer to their location.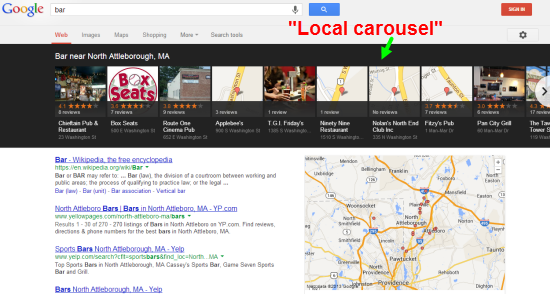 Since, smart-phones and tablets work on platforms that have in-built localization features, sometimes the SERPs generated are automatically location-focused. The point here is that a mobile-friendly website is more likely to rank better in mobile searches, more so in localized searches performed on Mobile.
Precise geo-targeting is possible with mobile ads. There are plenty of mobile ad options available these days, thanks to technological advancements. Mobile ads are very effective and contextually relevant as you are also able to target users who are on the move. To run mobile ads you obviously need a mobile-compatible website (including mobile-friendly landing pages).
3. Be accessible to your customers and prospects 24*7:
Not having a mobile-friendly website implies that you, as a business owner, is losing out on the mobile-savvy prospects. This happens when your website is not mobile-compatible, as it may not, comparatively, perform well in mobile search results. Even if it does, the visitors (including visitors from other sources) may not get the best user experience which may result in high bounce rate and less conversions.
4. Mobile-savvy Social Media users:
You know that it's an age of social media and you also know the importance of having a strong social presence. But, more importantly, there has been a major shift in the way people access these social platforms – via mobile devices and tablets.
71% of People use mobile to access social media (Source: Adobe )
Facebook reports 1 billion active users on mobile devices and 200 million users on Instagram (Source: The Verge)
You have a strong social media presence, great. But, what happens when people access your social media pages and profiles via mobile and navigate to your website which is not mobile-compatible? To continue to leverage your social media presence, you ought to go mobile. There is no choice.
5. Mobile searchers are more likely to make instant purchase:
Consider these facts too:
There is another strong reason to target mobile-savvy users and also to have mobile-payment facilities. Here it is: Mobile payment users spend twice as much (Source: Mobile Commerce Daily )
It's 2014. It's time to go mobile. Get set, go…..
Get a mobile website up and running within days, avail our affordable mobile website development service. We also offer responsive web design service. Call us on us on +91 8826 175930 or mail us at info@enablingbiz.com to discuss your requirements.
Read More