The Process
Our Customer Value Enhancement Model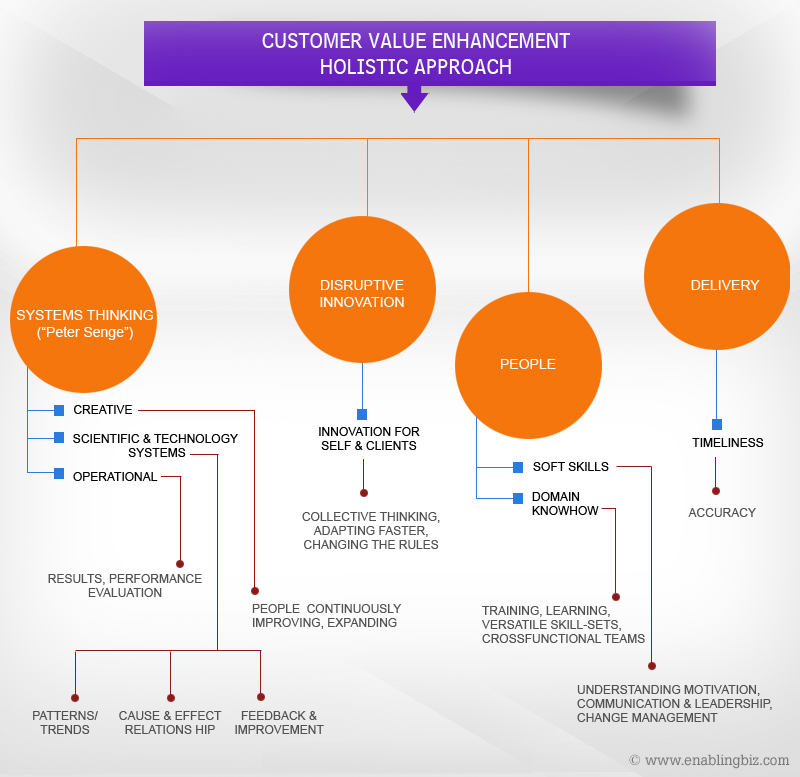 1) Systems Thinking
How do we approach our work in Enablingbiz? We follow the Systems Thinking approach as propagated by Peter Senge. This means we approach our work with a holistic view and not in a piecemeal fashion. We try to understand the bigger picture and larger implication of even small jobs that we do on a day to day basis.
i) Creative
People Continuously Improving, Expanding – Our team is imbibed with the culture to continuously improve as an individual as well as a company. We believe in organic growth where one person's growth directly impacts the organizations growth. Nothing happens like a big bang. Creativity is also systematically pursued. Each member is expected to increase his/her inputs and expand the abilities to make greater contribution to customer's objectives. This is the reason that attracts experienced personnel to work in our team.
ii) Scientific and Technology Systems
Understanding Patterns and Trends – We believe that nothing happens in isolation. Everything has a pattern and understanding the same will help us serve our customers better. We are a learning organization and we have a discussion session at the end of each completed project to gather what new we have learnt, what were the obstacles, why were the obstacles created and how we can avoid the same in future.

Our teams keep an eye on the global trends and keep upgrading themselves to provide enhanced services to our clients.
Cause and Effect Relationship – Every project handled by us is evaluated in depth to understand the reasons for its success or why the defined objectives were not met. Why there has been a gap? What are the causes leading to the gap? How we can work on each of the issues and ensure that the same is never repeated in future?
Feedback and Improvement – We practice what we preach. We solicit all kinds of feedback from all our customers to improve our services and offerings regularly.
iii) Operational
Results, Performance Evaluation – We analyze our turnaround time, the result of our projects, how far they have been able to achieve the desired goals and make our own internal evaluation for continuous improvement.
2) Disruptive Innovation
This concept suggests the scope to innovate thus creating new offerings and new markets. It also helps in disrupting an existing market changing the dynamics of success and altering the competitive forces by surprise.
i) Operational
Collective Thinking, Adapting, Faster – At Enablingbiz we believe in internal innovation through group discussion, brain storming sessions thus helping the organization adapt with the changing competition. It is also aimed to create new opportunities and demand among our customers and serving them efficiently to increase their expectations. We want our customers to access newer technology and creative ideas to improve their online marketing process with our association.
ii) Innovation for Clients
Changing the Rules of the Game – Our innovations' larger aim is to help our customers further impact competition in their circle of operation. In the online business, the pace of change is much higher. There is no scope for complacence. First mover advantage is often very high. That is what we aim to provide to our clients.
3) People
i) Domain Know-how
Training, learning versatile skill-sets in cross functional team – We believe in the importance of training to improve core skill-sets and remain updated with the technology changes around us. Team players are expected and motivated to enhance their existing skills as well as acquire more domain knowledge to be of more value to the organization as well as our customers.
ii) Soft Skills
Understanding motivation, communication & leadership, change management – Much of online marketing is about customer behavior, selling tactics, decision making and communication. We understand the importance of comprehending the same and inculcating the same in our work. How we can affect attitude? How to impact customer's perception? How to persuade them to buy? All these require fine soft skills and that is what complements strong domain knowledge in our team members.
4) Delivery
Ralph Waldo Emerson said - "The art of getting rich consists not in industry, much less in saving, but in a better order, in timeliness, in being at the right spot."
i) Timeliness
Accuracy – Marketing ideas have to be off the ground at the right moment to maximize its favorable outcome. We understand the importance of being accurate in our tasks and delivering it on time to our customers. The entire system driven process is followed solely to break down each task into multiple measurable steps. We use this as the basis to calculate how much time and effort will be required to deliver a job. And then we work on fine tuning the same to improve our delivery time.

Call us at +91-11-30201033 to discuss your project now.