Direct Mail Copywriting
Copywriting WINNING Direct Mail
Direct Mail campaign is process, a long – term dedicated program. The results do not appear overnight. Marketing and customer conversion requires concentrated and dedicated efforts over a long period of time. Success of Direct Mail is dependent on systematic analysis of past campaigns, learning from the hitches, following the process and disciplined perseverance.
Who better than an Enablingbiz Direct Mail copywriter to create a copy that formulates a Resounding Offer and Triggers maximum customer response?
Our Direct Mail Development PROCESS

Our Process starts with Analysis of the Marketing Objective of the Campaign aimed to be realized with the Direct Mail. We deliberate on the past mails to identify what worked, what did not and why. This ensures that we do not make the same mistakes.

We
invest considerable time
in the beginning getting to
know our client
, their business, their revenue drivers, the shortcomings, competition, industry dynamics
because Direct Mail is not just another mail
.
It is a Sales Proposal, it makes Promises, it Guarantees performance, it aims to BUILD A RELATION for brand loyalty and repeat purchases. It is never a onetime deal.

We follow a generalized procedure.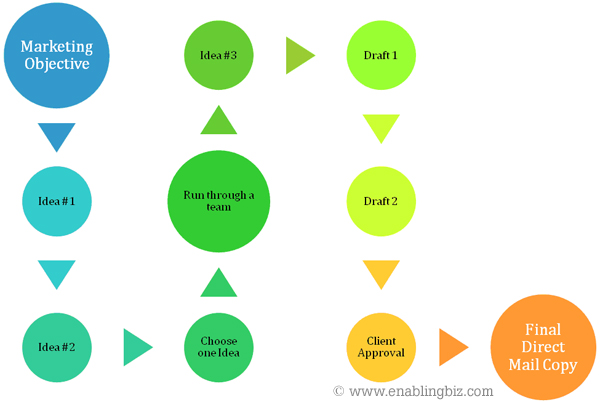 We provide end – to – end solution from copywriting to designing artwork of the Direct Mail and the Envelope.

We insist and conduct rigorous testing to assure Success of our Direct Mail copy.

Why Enablingbiz's Direct Mail copy delivers OUTSTANDING RESULTS repeatedly?

We create Direct Mails for businesses across the spectrum thus gaining strong versatility
We are selective about whom we work with. We support companies that are honest and market promising products with good benefits. We do not make hollow promises and wrong claims. Compatibility and integrity are important decision making factors while aligning with any client.
Our Headlines are MOVING and Impactful
We try to be innovative in our design to add weight to our Direct Mail content.
The dominant highlight of our Direct Mail copywriting service is principal focus on the Text. At Enablingbiz, the copywriter has the strongest say. This person develops the message and then the design team works around it to create the physical attributes.
Hit a Bull's Eye! Achieve your Sales Targets! Engage our Direct Mail Copywriting Services TODAY and Get that Crisp Message Delivered to a Large Profiled Audience. Achieve a High Rate of Response.

Your Direct Mail revenue will effortlessly cover much more than the cost.

Alternately, Call or Leave a Message on +91-11-30201033


*Quote by: David Ogilvy